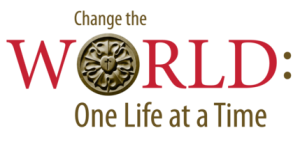 We are gearing up for the 500th anniversary of the Reformation as we celebrate the focus Martin Luther gave to the power of God's Word. On October 31, 1517 Luther posted his 95 Theses and it was a day that changed the world.
The churches in the greater Triangle area will celebrate this occasion hosting Change the World: One Life at a Time
On Sunday, November 5, 2017 Dorton Arena on the NC State Fairgrounds will be filled with songs of praise to our Lord. Following a moving time of worship with thousands of voices we will move to serve our neighbors. A health and dental clinic is planned for the afternoon and early evening as well as an art show and music festival.
The main speaker will be renowned international speaker Rev. Dr. Gregory P. Seltz who hosts the longest running Christian Radio program in the world, The Lutheran Hour. Lutheran Hour Ministries (LHM) is a Christian outreach ministry supporting churches worldwide. LHM produces Christian radio and TV programming for broadcast, as well as Internet and print communications, dramas, music, and outreach materials, to reach the unchurched in more than 30 countries.
Check out this flyer to be part of Festival Chorus, Orchestra, or Handbell Choir – and feel free to share.
Visit trianglefaith.org for more information or to:
Watch a short video that shares how one of our sponsoring congregations in Durham used the Touched Twice clinic model in 2016 at Grace Lutheran Church.
You won't want to miss this celebration service and gathering as we bring together churches across the region to praise God in one voice saying "It's Still All About Jesus!"