to Advent Lutheran Church!
Advent Lutheran Church is a Community of Christians gathered around the Word and the Sacraments, inviting all people to prepare for and receive the Light of the World, Jesus Christ.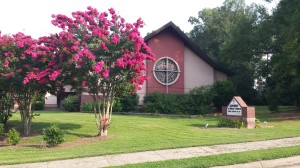 Our goal at Advent is:
to discover what God's plans are for us as individuals and as His Body the Church
to join Him in these plans for reaching others in the Chapel Hill and Greater Research Triangle area with the Good News of what He has done for us in Jesus Christ
and to find the real meaning of life and personal significance.
Our Mission Statement is "To Grow in The Lord… and To Make Him Known." God has created each of us with spiritual gifts that He wants to use to accomplish His plans. We discover those gifts and His plans as we grow in Him. Do you ever wonder what His plans are for you?
Please join us for worship, Bible Study and Fellowship, and we'll seek to discover His plans together, as we grow in the Lord and make Him known.
Hurricane Florence
We WILL be having Sunday School and Bible Class at 9:15 a.m. and Worship Service at 10:30 a.m. tomorrow, September 16. The "We the Church" meeting will be postponed until next week, September 23 at noon.
Please take care and do not put yourselves in harm's way by taking unnecessary risks. As the Church we are a place of refuge, but if you feel uncomfortable driving – due to the weather, wet roads, downed branches, etc. – you are encouraged to stay home.
You can watch Sunday morning services by googling 'live stream church services lcms'. One option is available here. Other options are also listed at kfuo.org.
Be safe, and may God protect!
Sunday Morning Schedule
9:15 am – Sunday School and Bible Class
10:30 am  – Divine Service with Holy Communion
11:45 am – Fellowship Hour
Advent is a member congregation of